Women Struggle for Humanity in Nepal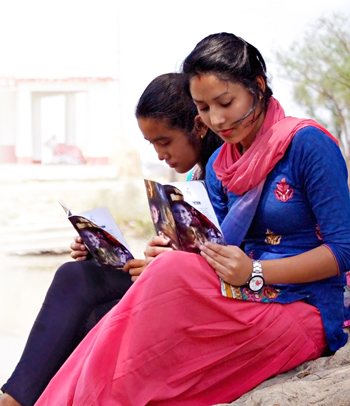 The family of Riva Devi Yadav, a 20-year-old woman from Gopalpur in the Dhanusa district of Nepal, was convinced that her husband Sanjay had poisoned and killed her in July 2013 because the family had failed to settle a sufficient dowry on the marriage. The family accused Sanjay and his family of torturing Riva physically and mentally prior to her murder and lodged a complaint with the police, leading to the husband's arrest. In this culture, the sin is not the killing but the lack of an adequate dowry—and an arrest for dowry violence is a rare occurrence.
This incident speaks to the reality that this is a nation where human rights abuses remain culturally embedded and have been on the rise over the past decade. The government has made only minimal advancement to combat the worst forms of violence against females.
They are at best considered second-class citizens. Men are the decision-makers and owners of property, including their wives, who are seen as just another form of property. Indeed, in rural areas, girls and women are literally called "parayadhan," which can be translated as "others' property."
The status of women is reflected in the educational system where national statistics show their literacy rate stands at 30 percent, less than half that for men (66 percent). The enrollment of women in higher education is just under 25 percent of the population. Even in technical and vocational education, it is far below that of men.
And as the incident with Riva Yadav illustrated, violence remains a serious and systemic problem in Nepal where women are frequently brutalized over dowries or other issues, often resulting in injury or death.
There was the case of 16-year-old Shiva Hasami from the Bardia district, who in December 2012 was burned alive—set ablaze by what was described as "an insane youth" named Babu Khan because she turned down his request to elope with him.
In another case that same month, Sita Rai, upon returning home after two years working in Saudi Arabia, was abducted, robbed by immigration officials and raped by a police constable at Tribhuvan International Airport in Kathmandu. Then Prime Minister Baburam Bhattarai expressed his government's "deep shame" for the act and promised an in-depth investigation. However, the purported investigation languished, leading to a public sit-in protest.
"In a true democracy, the people are in charge and elected leaders are public servants who should serve the public's will," says Binod Sharma, who heads one of Nepal's two Youth for Human Rights chapters. "That simply isn't happening now."
Sharma stresses that the first step toward change is to increase the public's awareness of just what their rights and responsibilities are.
"In Nepal, women and young people don't have a voice in politics," Sharma says. "So our first step is to educate them about what rights they have simply by virtue of being alive." To that end, Sharma reports they have delivered human rights education classes to more than 3,000 students in schools.
Established in Kathmandu in 2009, Youth for Human Rights Nepal now consists of two chapters and 10 human rights clubs. Each December, in collaboration with the National Human Rights Commission of Nepal, Youth for Human Rights sponsors walks for human rights to celebrate International Human Rights Day. The chapters also work with the police force, providing human rights workshops to hundreds of police officers, and they have implemented a Human Rights Education Awareness Program in the schools to inspire youth to take up the cause.
The unstable political situation in the country prior to the November 2013 national elections for a new Constituent Assembly gave the population the courage to seek legislation that would bring Nepal into line with nations that respect the Universal Declaration of Human Rights—for women and young people in particular. It also focused attention on reform of flawed citizenship laws that had left 2.1 million people in the country stateless.
"Ensuring justice for conflict-related abuses should be a top priority for the new Nepal government," observes Human Rights Watch Asia Director Brad Adams. "To show that they are serious about holding perpetrators to account, the authorities should comply with court orders requiring investigations and prosecutions of wartime cases."
Indeed, human rights abuses extend still further. They include horrid prison and detention center conditions as well as government limits on freedoms for refugees, particularly in the Tibetan community. The press suffers heavy censorship while the government often looks the other way in cases of abuse.
For these reasons, Youth for Human Rights promotes the Universal Declaration of Human Rights as a direction for a society that has long been afflicted with human rights violations and civil strife. Youth for Human Rights continues to work with the Human Rights Journalist Association of Nepal (HURJA) and recently signed a memorandum of understanding to continue to forward the crusade on behalf of all free people of that nation.